Demagnetized malls: a study of the early regional mall

Case Study: Baldwin Hills Crenshaw Plaza
3650 West Martin Luther King Blvd
Los Angeles CA 90008
Architect: Albert B. Gardner (mall),
Albert C. Martin for May dept store.
Constructed: 1947,
renovation/additions 1992, 1998
Overall Square footage: 819,604 SF
Parking: 2695 spaces
Baldwin Hills is a typical example of the ups and downs experienced by the post war suburban shopping mall. When constructed in 1947 Baldwin Hills was the first regional mall to compete rather than complement the city retail centers of downtown Los Angeles.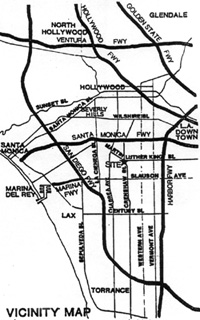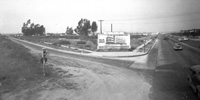 Surrounded by 13 acres of parking, Baldwin Hills set a new standard for shopping convenience in an automobile dominated city. This convenience was in sharp contrast to the difficult parking at downtown shopping centers with which it competed. As the only regional mall, it was able to draw from the rapidly growing suburbs of west los Angeles, and the estimated 560,000 people living within a 20 minute drive radius of the site. The mall was enormously successful as a retail magnet, however its success spawned other developments. Indeed it went in ten years from being the only regional mall to having to compete with 12 others regional developments.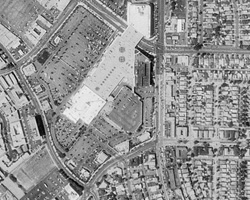 current aerial view (click to enlarge)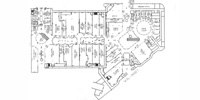 level 01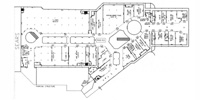 level 02
The magnetic strength of a shopping center depends largely on the strength and uniqueness of its shopping experience. As newer malls draw the fickle consumer, the older malls lose customer base and lose the high end stores needed to attract the high-end consumer. Faced with this increased competition, the older mall is forced to either renovate or succumb to the downward spiral caused by lower customer traffic feeding store closures, which causes further traffic loss. By the 1980s, Baldwin hills found itself at the bottom of this spiral as the mall had lost many of its original tenants and was facing bankruptcy. At that time a revitalization effort championed by Mayor Bradley was established, and in the end spent nearly $65 million to bring the mall back to viability, with a new enclosed court and 3rd department store.

panoramic from west


The fully enclosed and utilitarian shopping box has long faded from the edge of retail desirability; today's shoppers are searching for an experience as well as unique stores. Baldwin hills has faced increased pressure over the last 10 years from new malls that provide outdoor active spaces mixed with boutique shops. The future for these older regional malls is bleak given the increased competition from entertainment malls and internet shopping. While the death of the mall is still very far off, the first generation of malls are becoming rapidly obsolete and are not likely to live out the decade without major reconstruction.



view south from crenshaw blvd

view north from crenshaw blvd

interior of mall corridor

interior of mall court



© polar inertia 2003